Bucket Brigade
Join the Bucket Brigade. Visit my farm in Hay Lakes Alberta to get your honey for the season and participate in a family friendly farm activity. New customers are welcome on Bucket Day but please call ahead so I can have new buckets for you. Call Sara at 1-780-878-8393
$35 for the initial 3 kg Honey Bucket
$30 to refill the 3 kg Honey Bucket
Farm Pick Up Days:
October- Pumpkin Patch - Choose a free pumpkin!
June - House Tours & New Lambs
How to find the Farm:
Call Sara if you would like directions: 1-780-878-8393
Sara's 5 Mile Pumpkin Soup Recipe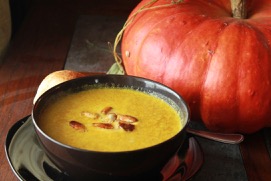 Ingredients
3 cups of Rouge d'Etampes pumpkin flesh baked
4 cups chicken stock
1 small onion chopped
3 carrots chopped
1 stalk celery chopped
1 small tomato chopped
1/2 garlic clove minced
1/2 cup loosely packed spinach or sorrel chopped
1 cup applesauce or chopped apple
1/4 tsp basil and parsley
Pinch of thyme
1 tsp honey
Pepper and salt to taste
3/4 c cream or millk
Roasted pumpklin seeds for garnish

Instructions
1. Saute onion in butter and add to stock and simmer. Then add the celery, tomato.,carrots and garlic
2. Add sorrel, applesauce and spices and honey. Continue to simmer for 1 hour
3. Blend with a hand blender right in the pot! Add milk or cream and stir. Do not boil.
3. Garnish with cream and pumpkin seeds roasted in butter and honey
To Freeze this soup omit milk until reheating servings.